MONTH'S HIGHLIGHTS
The MPC met during the month and retained the CBR at 7.0% for the eighth time in a row, since the rate cuts in the first half of 2020. The economic outlook still remains positive and inflation is well anchored within the expected range of 2.5% to 7.5%. All other sectors have rebounded stable and resilient.
Revenue receipts by KRA amounted to Kshs 176.66 billion in April 2021 compared to Kshs 144.06 billion in 2020. This is due to increased voluntary compliance, debt recovery initiatives, as well as gradual economic recovery as a result of easing the Covid-19 containment measures. This marks the fifth month in a row that KRA has surpassed its monthly targets.
The Energy and Petroleum Regulatory Authority has reviewed upwards the prices of fuel for the period 15th May to 14th June 2021. Super petrol increased by 2.9% to retail at Kshs 126.4 per litre, while the prices of diesel and kerosene remained unchanged. This is despite a 2% increase in the landing costs of kerosene and a decline of 0.6% and 1.0% in super petrol and diesel prices, respectively.
A decline in the value of shares at NSE due to volatility in the capital market caused by the pandemic wiped out nearly a quarter of the income earnings of life insurers. According to data by IRA, insurers have been the largest investors in government securities and equities.
Kenya has cut tariff for ships docking at the new Lamu Port by up to 50% of the rates charged at the Mombasa facility for one year, to lure more vessels at the second commercial harbor. The Kenya Ports Authority has lowered the storage charges for transshipment vehicles, with the first 30 days attracting no charge at all. KRA has extended the duration of the entry of cargo from 21 days to 30 days and the transit period has been increased from 30 days to 60 days.
The Capital Markets Authority has admitted seven firms into a fin-tech and innovation hub where they will test new products for possible rollout in the local capital markets. The innovation is in the fields of robo-advisory, block-chain technology, tokenization of real estate, providing access to global stocks,screen-based security lending and borrowing, reg-tech solutions and data analytics.
The National Assembly has exempted Japanese companies, consultants and employees undertaking local projects funded through grants from Tokyo from paying tax in respect of income derived from or accrued in Kenya. Firms currently undertaking projects worth Ksh 328 billion will not remit any tax to KRA.
ECONOMIC INDICATORS
Foreign Exchange Reserves
During the month, the CBK's usable foreign reserves declined by 2.40% to stand at USD 7.48 billion (4.57 months of import cover). However, this meets the CBK's statutory requirement to endeavor to maintain at least 4 months of import cover, and the EAC region's convergence criteria of 4.5 months of import cover.
Currency
The Kenyan Shilling gained against the USD by 0.28% exchanging at Kshs 107.54 at the end of the month down from Kshs 107.84 in the previous month. This was due to an adequate supply of dollars from exporters amid a drop in demand from commodity importers. Despite this, there has been rising uncertainties in the global market due to the Covid-19 pandemic which has seen investors preference for holding their investments in dollars.
USD Vs KSHS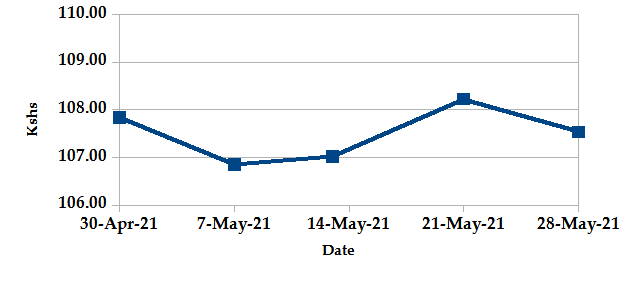 STERLING POUND Vs KSHS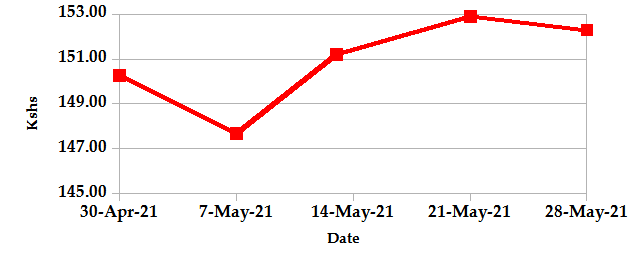 Inflation
The overall year-on-year inflation increased to 5.87% in May, up from 5.76% in April. The increase is attributable to the increase in the food and non-alcoholic beverages index by 0.32% due to increased prices, such as onion-leeks and kale (sukuma wiki), which increased by 5.03% and 3.41%. In addition, the transport index increased by 0.69% due to an increase in the pump price of petrol by 2.87%.
INFLATION EVOLUTION

Liquidity
During the month of May, liquidity tightened with the inter-bank rate increasing marginally to 4.96% from 4.83% the previous month. The volume of inter-bank transactions increased to Kshs 15.71 billion from Kshs 9.70 billion. Commercial banks excess reserves increased to Kshs 15.5 billion from Kshs 13.0 billion the previous month.
INTER-BANK RATE and VOLUME

FIXED INCOME
T-Bills
The T-bills recorded an overall subscription rate of 95.97% at the end of the month of May, compared to 80.35% recorded in the previous month. The increase in subscription is due to the easing of liquidity from the lowering of the Cash Reserve Ratio. The performance of the 91-day, 182-day and 364-day papers stand at 83.44%, 49.02% and 147.94% respectively. On a monthly basis, the yields on the 91-day papers remained unchanged while yields on 182-day and 364-day papers decreased by 1.55% and 3.36% respectively to 7.87% and 9.16%.
T-BILLS

T-Bonds
Over the month of May, the T-Bonds registered a total turnover of Kshs. 80.33 billion from 1,649 bond deals. This represents a monthly increase of 6.22% in turnover and a decrease of 27.77% in bond deals respectively.
In the international market, yields on Kenya's Eurobonds declined by an average of 14.5 basis points.
YIELD CURVE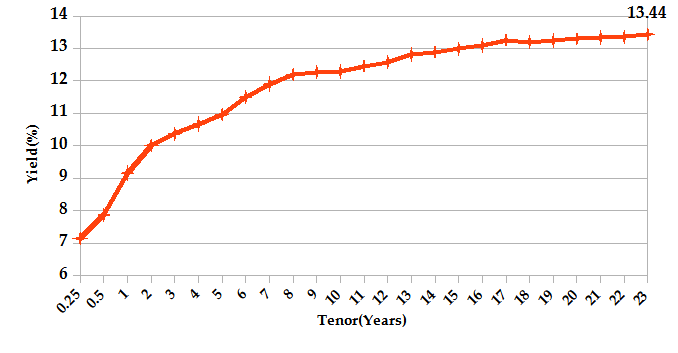 EQUITIES
During the month of May, NASI and NSE 25 increased by 2.09% and 1.03% respectively while NSE 20 declined marginally by 0.24% on a monthly basis. On a weekly basis, the NASI, NSE 20 and NSE 25 increased by 4.18, 0.18% and 3.52%. The increase in NASI is as a result of gains of large-cap stocks such as East Africa Breweries Ltd, Equity Group Holdings Ltd, ABSA Bank Kenya Plc and Safaricom. At the close of the month, market capitalization increased by 3.46% to Kshs 2.69 trillion. Also, total shares traded and equity turnover increased to 29.6 million and 825.9 million from 13.4 million and 465.3 million respectively the previous month.
NASI, FTSE NSE 15 and FTSE NSE 25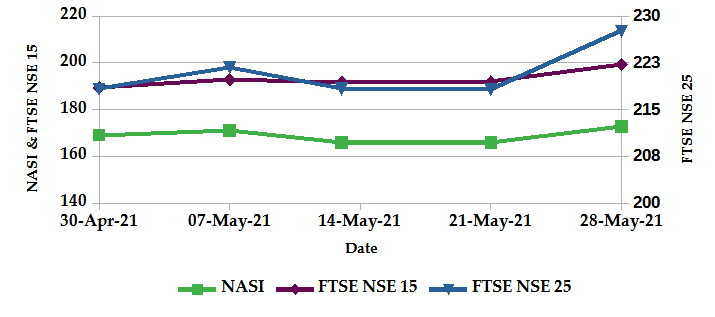 NSE 20 and NSE 25

ALTERNATIVE INVESTMENTS
The derivatives market over the month recorded 433 contracts having a turnover of Kshs 28.32 million which was an increase from 227 contracts having a turnover of Kshs 27.97 million recorded over the last month.
The I-REIT market over the month recorded 166 contracts having a turnover of Kshs 1.09 million which was a decrease from 280 contracts having a turnover of Kshs 9.48 million recorded over the last month.
The ETF market recorded a turnover of Kshs 1.30 million from 1 deal.
GLOBAL AND REGIONAL MARKETS
| Global Markets | Weekly Change | Monthly Change |
| --- | --- | --- |
| S&P 500 | 1.16% | 0.55% |
| STOXX Europe 600 | 1.02% | 2.65% |
| Shanghai Composite (SSEC) | 3.28% | 4.47% |
| MSCI Emerging Market Index | 2.31% | 0.98% |
| MSCI World Index | 1.23% | 0.93% |
| Regional Markets | Weekly Change | Monthly Change |
| --- | --- | --- |
| FTSE ASEA Pan African Index | -0.01% | 2.00% |
| JSE All Share | 1.89% | 0.41% |
| NSE All Share (NGSE) | -0.18% | -3.97% |
| DSEI (Tanzania) | 3.00% | 5.35% |
| ALSIUG (Uganda) | 3.45% | 4.54% |
During the month, major global markets gained due to investor confidence from news that the US president plans to propose a $6 trillion budget for the 2022 fiscal year. In the USA, the S&P 500 and Dow Jones indices gained by 0.55% and 1.92% respectively from the previous month. In Europe, the continental index of STOXX Europe 600 and UK's FTSE 100 gained by 2.65% and 0.76% respectively.
On a regional front, most markets gained over the month. The FTSE ASEA Pan African index, representing the overall African markets, increased by 2.00% from the month of April. South Africa's JSE All Share gained by 0.41%, Uganda's All Share Index gained by 4.54%, Tanzania's DSEI increased by 5.35%. However, Nigeria's All-share index declined by 3.97%.
On the global commodities markets, the oil prices increased due to investor optimism over fuel demand in the next quarter. The Crude Oil WTI futures increased by 4.47% from the previous month of April. Also, the ICE Brent Crude Oil increased in value by 4.46%. Gold futures gained by 7.73% as gold prices increased due to weakening of the dollar and lower bond yields in the economic data released by China, the worlds' largest gold consumer.