Month's Highlights
The Monetary Policy Committee (MPC) maintained the Central Bank Rate (CBR) at 7.00% citing that the policy measures introduced since the outbreak of the Covid-19 pandemic to cushion the economy were having the intended effect on the economy.
The World Bank has warned that Kenya's rising public debt could reach distress levels. It is recommending that Kenya makes use of available international debt service relief and other debt optimization strategies to release the needed fiscal space. The situation is attributable to a pause in Kenya's fiscal consolidation due to the Covid-19 pandemic, for the country's rapidly rising public debt.
The CBK converted a Treasury bill into a long-term bond, helping the government delay the repayment of Sh20.2 billion. This is part of the initiative that has helped decrease the amount of Treasury bills by 6.9% to KSh 907.7 billion in June 2020 from KSh 975.3 billion in June 2019.
The IMF is considering a request by Kenya for a US$ 2.3 billion loan to assist it to cope with the negative effects of the Covid-19 pandemic. Kenya is targeting initial cash of US$ 725 Million to finance its programs listed in the current financial year ending June 2021, according to statements from the Treasury Cabinet Secretary.
The International Monetary Fund (IMF) and the World Bank have forced Kenya to take a Sh75 billion Covid-19 debt relief from wealthy nations as a precondition for accessing cheap loans. A restrictive clause in the Eurobond terms stopped Kenya from seeking a suspension of debt payments. The government is in talks with the IMF on a new lending facility, as Kenya faces huge budget deficits worsened by the Covid-19 crisis.
Tanzania edged out the US as Kenya's leading tourism top source market buoyed by its lesser Covid-19 lock-down measures. Rising virus cases have hampered arrivals from the world's biggest economy after many countries, including Kenya, categorized US travelers as Covid-19 high-risk.
Centum Real Estate has floated Sh4 billion housing bond to finance projects that would deliver more than 1,400 units to the market. The three-year zero-coupon bond will be issued at a discount rate on the three-year Treasury bond, plus a market-determined margin. The managing director said the firm will be open to taking up to Sh6 billion if the bond is oversubscribed.
Safaricom will borrow billions of shillings to fund its expansion into Ethiopia if a consortium it is leading wins one of two telecommunications licenses being auctioned in that market. Safaricom will own a majority stake of 51% in the consortium. Safaricom will, however, take longer-term debt to fund the Ethiopia venture in a departure from its current practice of taking short-term bank loans, which it pays within one year.
Pharmaceutical firm Moderna has announced that its Covid-19 vaccine is 94.5% effective treatment of Covid-19 with few adverse side effects. The tests were performed in a joint operation between Moderna and the National Institute of Health (NIH). The breakthrough comes barely a week after Pfizer Inc. and BioNTech SE announced that their Covid-19 vaccine was 95% effective treatment of Covid-19.
ECONOMIC INDICATORS
Foreign Exchange Reserves
During the month, the CBK's usable foreign reserves declined by 2.09% to stand at USD 7.95 billion (4.88 months of import cover). However, this meets the CBK's statutory requirement to endeavor to maintain at least 4 months of import cover, and the EAC region's convergence criteria of 4.5 months of import cover.
Currency
The Kenyan Shilling depreciated against the USD by 1.07% exchanging at Kshs 109.98 at the end of the month up from Kshs 108.82 in the previous month. The depreciation is due to the surge of demand for dollars as the supply of dollars decreased due to lack of tourists and a reduction in exports coupled with rising costs of imports.
USD Vs KSHS
STERLING POUND Vs KSHS
Inflation
The overall year-on-year inflation increased to 4.84% in the month of October up from a revised figure of 4.20% in September. The increase is attributable to increased transport, electricity and food prices. The month to month food and non-alcoholic drinks' index rose by 1.14% in October 2020 while year-on-year food inflation increased by 5.76%. This was contributed by increase in prices of carrots, mutton and wheat flour-white among other food items. The price of kerosene rose by 0.7%
INFLATION EVOLUTION

Liquidity
During the month of November, liquidity decreased. The inter-bank rate increased to 3.67% from 3.42% in the previous month. The volume of inter-bank transactions decreased to Kshs 8.63billion from Kshs 10.16billion. Commercial banks excess reserves decreased to Kshs 6.3 billion from Kshs 9.5 billion.
INTER-BANK RATE and VOLUME

FIXED INCOME
T-Bills
The T-bills recorded an overall subscription rate of 93.94% at the end of month of November, compared to 81.62% recorded in the previous month. The increase in subscription is due to increase in market liquidity from government payments which offset tax receipts. The performance of the 91-day, 182-day and 364-day papers stand at 114.46%, 63.71% and 44.77% respectively from 74.92%, 33.07% and 110.10% in the previous month. On a monthly basis, the yields on the 91-day, 182-day and 364-day papers increased to 6.73%, 7.19% and 8.15% respectively from 6.65%, 7.04% and 7.93%.
T-BILLS

T-Bonds
Over the month of November, the T-Bonds registered a total turnover of Kshs 44.67 billion from 1,175 bond deals. This represents a monthly decrease of 24.97% and 36.10% respectively. The yields on government securities in the secondary market gained during the month of November.
In the international market, yields on Kenya's Eurobonds declined by an average of 41.1 basis points.
YIELD CURVE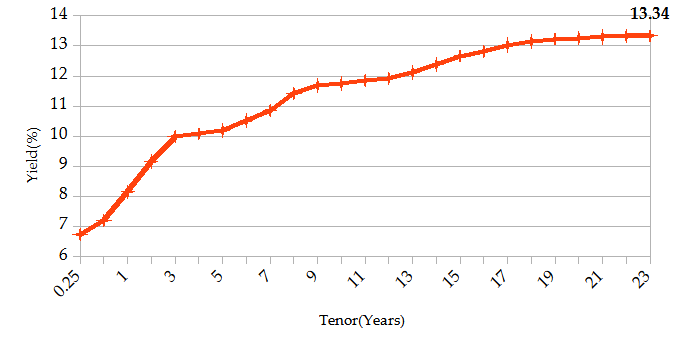 EQUITIES
During the month of November, NASI and NSE 25 increased by 2.33% and 2.27% respectively while NSE 20 decreased by 1.44% on a monthly basis. On a weekly basis, the NASI, NSE 20 and NSE 25 decreased by 0.3%, 1.6% and 0.4%. The gains in NASI is as a result of appreciation of large-cap stocks such as Safaricom, KCB Group, Co-operative Bank and East Africa Breweries Ltd. At the close of the month, market capitalization increased by 2.33% to Kshs 2.20trillion. Also, total shares traded increased by 7.4% to 16million shares and equity turnover increased by 13.01% to Kshs 562 million.
NASI, FTSE NSE 15 and FTSE NSE 25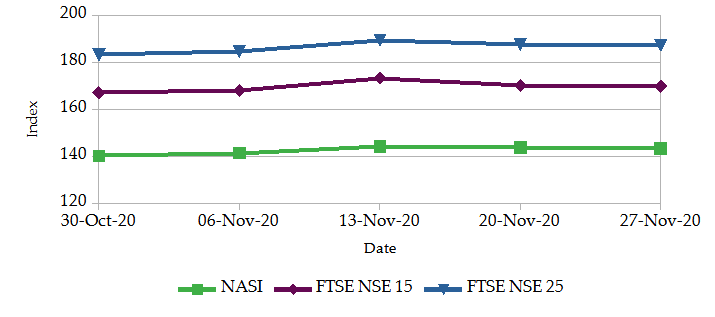 NSE 20 and NSE 25TS

ALTERNATIVE INVESTMENTS
Kenya Bankers Association House Price Index (KBA-HPI) indicates a contraction in the rate of house prices growth to 0.08% reported in the third quarter of 2020 from 0.20% reported in the second quarter of the year. The contraction is on account of the challenging economic environment due to the Covid-19 pandemic.
Hydro Developers Limited, a real estate developer based in Nairobi, partnered with the Kenyan government in the construction of approximately 30,489 affordable units under the Big Four Agenda, at a cost of Kshs 3.0 bn.
The derivatives market over the month recorded 25 contracts having a turnover of Kshs 1.3 million which was a decrease from 30 contracts having a turnover of Kshs 1.5 million recorded over the last month.
I-REIT market over the month recorded a turnover of Kshs 1.2 million with 152 deals which was a decrease from Kshs 7.4 million with 307 deals recorded over the last month.
The ETF market over the month recorded a turnover of Kshs 3.3 million with 3 deals which was an increase from Kshs 1.0 million with 3 deals recorded over the last month.
GLOBAL AND REGIONAL MARKETS
| Global Markets | Weekly Change | Monthly Change |
| --- | --- | --- |
| S&P 500 | 1.89% | 11.27% |
| STOXX Europe 600 | 0.93% | 14.86% |
| Shanghai Composite (SSEC) | 0.91% | 5.70% |
| MSCI Emerging Market Index | 1.77% | 11.53% |
| MSCI World Index | 2.42% | 13.46% |
| Regional Markets | Weekly Change | Monthly Change |
| --- | --- | --- |
| FTSE ASEA Pan African Index | 0.36% | 5.34% |
| JSE All Share | 2.13% | 11.69% |
| NSE All Share (NGSE) | 2.19% | 14.26% |
| DSEI (Tanzania) | 0.25% | 0.91% |
| ALSIUG (Uganda) | 0.43% | 0.39% |
During the month, major global markets gained as Pharmaceutical firm Moderna announced that its Covid-19 vaccine was 94.5% effective in treatment of Covid-19 with few adverse side effects. In the USA, the S&P 500 and Dow Jones indices gained by 11.27% and 12.86% respectively from the previous month. In Europe, the continental index of STOXX Europe 600 and UK's FTSE 100 gained by 14.86% and 14.17% respectively.
On a regional front, most markets gained. The FTSE ASEA Pan African index, representing the overall African markets, increased by 5.34% from the previous month in October. South Africa's JSE All Share gained by 11.69%, Uganda's All Share Index increased by 0.39% and Tanzania's DSEI gained by 0.91%. Nigeria's All Share index rose by 14.26%.
On the global commodities markets, the crude prices improved due to optimism as successful Covid-19 vaccine trials were announced by Moderna and Pfizer. The Crude Oil WTI futures soared by 27.21% from the previous month of October. Also, the ICE Brent Crude Oil increased in value by 28.62%.